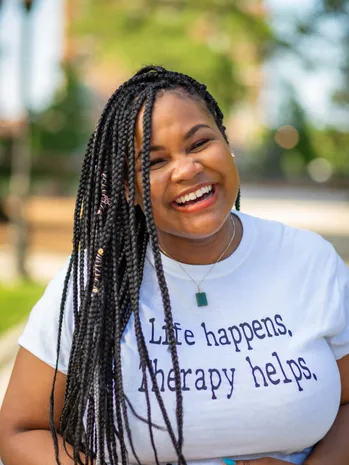 Practice Location:

Southside & Virtual
Ages Treated:

Adults: 18+
Primary Areas of Clinical Interest & Expertise:
· Women of color; Therapists seeking their own counseling; college students; Professionals
· Depression, Anxiety, Life transitions, Work-related stress, Divorce, Spiritual issues
· Cognitive Behavioral Therapy (CBT), Motivational Interviewing (MI), Solution Focused Therapy, Psychoeducation, Feminist Theory, Mindfulness, Holistic
Background:

It's no secret that life delivers us both light and darkness. No matter which side you encounter, having a professional guide to aid you can be comforting and affirming. In my practice, my goals are to 1) educate you on what you may be experiencing, 2) help you shift your mindset, 3) encourage you to practice new habits, and 4) assist you with creating a healthy and whole life. Together, we can help you discover and maintain the renewal and healing you desire.
I graduated from Virginia Commonwealth University with a Bachelors's and Master of Social Work in 2011 and 2017, respectively. I have 10 years of experience in the mental health field, offering services to children and adolescents, adults, and families in various settings including schools, psychosocial programming, community mental health, partial hospitalization, and outpatient therapy. My additional work experience includes supervisory positions and training social work and counseling interns.
I specialize in issues related to depression, anxiety, trauma, women's issues, and life transitions. My current client focus includes adolescents, college students, young professionals, adults, and families. I am LGBTQIA+ affirming and am passionate about helping women of color navigate the many stressors in their lives. In addition, I offer a confidential and therapeutic space for therapists to receive their own healing.
In my practice, I utilize a holistic, trauma-informed approach that focuses on treating the whole person; physically, mentally, emotionally, spiritually, and socially. My treatment modalities include Cognitive Behavioral Therapy, Motivational Interviewing, Solution-Focused Therapy, Mindfulness, and crisis intervention.
When working with me, you can expect therapeutic care that is personable, educational, and professional. I am passionate about helping others and am honored to be a guide on the path toward healing, light, and renewal.
In my personal time, I love expanding my knowledge about spirituality, reading and researching, and winning Grammys in the shower and car.
Education:

Virginia Commonwealth University: MSW
Virginia Commonwealth University: BSW

Licenses & Certifications:
Licensed Clinical Social Worker (LCSW)- Virginia
While Deidra is contracted with the following insurance payers, we recommend contacting your insurance company to determine if your plan has any restrictions or limitations:
- Anthem (Commercial and Medicaid)
- Aetna (Commercial)
- Cigna
- Molina Complete Care of Virginia Medicaid
- Optima (Commercial and Medicaid)
- Optum/ UnitedHealthcare (Commercial and Medicaid)